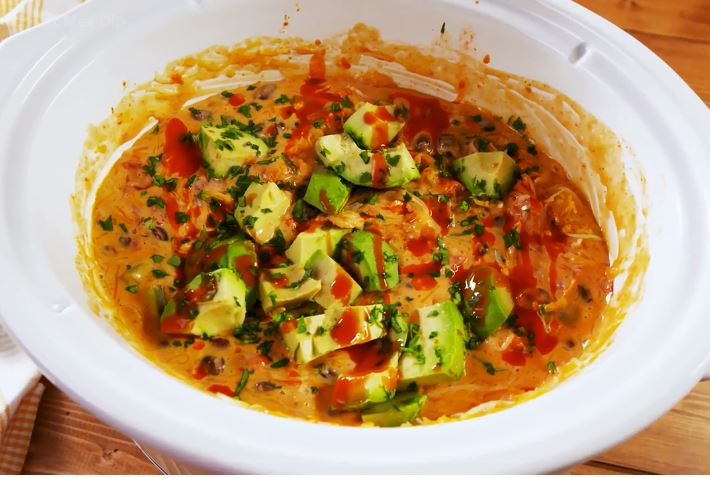 Prep Time: 20 MIns Cook Time: 1 Hour
Ingredients
1 tbsp. extra-virgin olive oil
1 small yellow onion, roughly chopped
1 medium green bell pepper, roughly chopped
1/2 tsp. ground cumin
1/2 tsp. paprika
1/4 tsp. garlic powder
1 (14.5-oz.) can diced tomatoes, undrained
1 (16-oz.) block pasteurized cheese product (Velveeta)
1/4 c. whole milk
1 (15.5-oz.) can black beans, rinsed and drained
1/4 c. freshly chopped cilantro, plus more for serving
4 tsp. Hot Sauce
8 oz. shredded Mexican style cheese
2 avocados, diced
Tortilla chips, for serving
Directions
In a large skillet, heat the oil over medium. Add the onion and bell pepper and cook, stirring occasionally, until softened, about 5 minutes. Stir in the cumin, paprika, and garlic powder and cook, stirring until fragrant, 1 minute.

Scrape the onion mixture into the slow cooker and add diced tomatoes, pasteurized cheese, and milk.

Cook on high for 1 hour or low for 2 hours, until bubbly. Stir in the black beans, cilantro, and hot sauce until well combined. Stir in shredded Mexican style cheese until just melted. Top with avocado and garnish with cilantro. Dash generously with hot sauce. Serve with tortilla chips.